Sunset the first night. Isn't it pretty? It was raining to the right and to the left, but right in the middle the sun broke through. Obviously, the old adage "Red sky at night sailor's delight. Red sky at morning sailor's warning" isn't exactly true. Rained all the way through my entire stay. *sigh*
Monday-Rain, rain, rain! This is outside my window. Poured and so much wind! Still, it's cool to hear the waves crashing and the wind howling...until this morning anyway. The wind was hitting my hotel so hard it was shaking! Scared the livin' daylights out of me!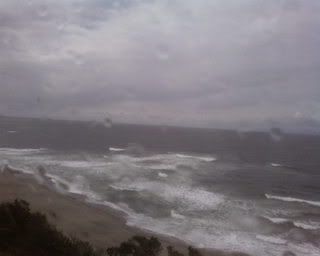 This picture was taken on my way. I don't know if you can see how it's quite a bit darker to the left? Well, it was as black as coal and I could tell that it was pouring. Thankfully, I was in my car to the right of that mess and just got a bit of rain. Dark, isn't it?

This was taken yesterday. I pulled into this parking area to watch the waves and this fearless seagull decided to jump right onto the hood of my car. If there was no glass between us I could have reached out and touched him. Not even a foot away from my face. :)